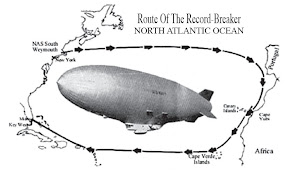 Today we want to look at a very special airship that made history. The Navy Blimp ZPG-2, No 141561 called the Snow Bird. That went out to challenge the long distance record that was once set by the Graf Zeppelin on it's non-stop flight from
Friedrichshafen, Germany
to
Tokyo, Japan
. The two places where the
Zeppelin
is flying again today.
Silver Donald Cameron
brought the famous blimp back into our awareness with his column "
Another way to fly: blimps
" in the Chronicle Herald. The Snow Bird flew from South Weymouth, Mass to Europe, Africa and back across the Atlantic to Key West, Florida marking it the the longest unrefuelled flight ever made by an airship both in distance and time covering 9448 miles (15205 km) in 11 days. So when did that happen one might ask, it happened over 50 years ago and ever since no airship has ever come even remotely close to this record.
To learn more about the flight of the Snow Bird you might want to check out a few more great resources. The
Naval Historical Center
released a publication called
Kite Balloons to Airships...the Navy's Lighter-than-Air Experience
outlining the 75 years of history in LTA (Lighter-Than-Air) at the Navy. Chapter "
XVI. LTA Records Set in the 1950s
"(PDF) outlines the story on the Snowbird in great detail with many pictures. But the
whole publication
is worth a read. It's a
free PDF download
.
The
Naval Airship Association
also had a great article with pictures in their official newsletter
The Noon Balloon
(PDF) around page 18.
Click here to get the Noon Balloon Number 73
.
These where the Specifications of the
ZPG-2
also called
N Class Blimp
:
General characteristics
Crew: 21
Length: 343 ft 0 in (104.57 m)
Diameter: 76 ft 0 in (23.17 m)
Height: 107 ft 0 in (32.62 m)
Volume: 1,011,000 ft³ (23,648 m³)
Powerplant: 2 × Wright R-1300-2 radials,, 800 hp (600 kW) each
Performance
Maximum speed: 80 mph (128 km/h)
Endurance: over 200 hours
How much would it cost to build and operate such a ship today? Would it not be a lot cheaper than 50years ago, wouldn't an airship build with new composite materials perform much better than this 50 years old ship? There is a future for airships, if it was possible to build something like that 50 years ago it's an easy task to build it today. Just take the old design, replace the envelope material with a better one and the engines, too and start from there. A proven airworthy design which could be optimized in future iterations.
So I can only agree to
Silver Donald Cameron
that airships have a
great future ahead
. They can provide alternative ways of travel with less fuel consumption than any modern air plane. Sure they are slower but there are lot's of applications where time is not so much an issue. Check out Mr Camerons Blogs
Sailing Away from Winter
and
Silver Donald on Sunday
for more columns and bits by him.
If you like this article and our Blog and are not already subscribed, why don't you subscribe, it's
FREE
. You can subscribe
via email
, this way articles get send to you directly into your email inbox. Or you subscribe to the
RSS feed
and use a
feedreader
to read the blog. But don't forget to take a look at the website, too. Often there are videos or slideshows that do not get delivered in the feed. Also you can find additional links and other stuff on the website which makes it worth a visit.